Zumwalt

—Image © Zynga
Information
Level
Level 25
Unlock For
28-81 Empire Points
Health
320
Tier Class
Tier 5 Unit
Class
Good against
Size
2x3
Defense Area
8x9
Build Time
0d 08:00
Source
Shipyard II
Upgrade at
Navy Research Lab
General Costs
Coins
18,000 Coins
Oil Needed
500 Oil

Market Price
41,250 Coins
Parts Needed for Upgrades
Upgrade Blueprints
12-19 Upgrade Blueprints
Advanced Hull Platinges
12-19 Advanced Hull Platinges
Anchors
12-19 Anchors
Sonar Systems
12-19 Sonar Systems
Upgraded Information
Health
384
Costs

13,500 Coins
00000000000000000375.

375 Oil
18.75 Ore
Build Time
0d 06:00

Main Article > Whack To The Future
Information for Zumwalt
Zumwalt is a naval unit based on the destroyer USS Zumwalt (DDG-1000). As of July (2012), it could be obtained from the Treasure Vault (Gold Vault). It can also be obtained in normal Survival Mode at Wave 20 (July 2012).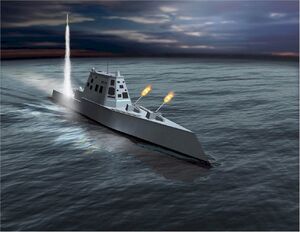 Ad blocker interference detected!
Wikia is a free-to-use site that makes money from advertising. We have a modified experience for viewers using ad blockers

Wikia is not accessible if you've made further modifications. Remove the custom ad blocker rule(s) and the page will load as expected.