World Embassy

—Image © Zynga
Information
Type
Civic
General Costs
The World Embassy is a building in Empires & Allies. It allows immunity from enemy and neighbor invasion at a starting time period of 18 hours, which can be extended further by hiring neighbors into the embassy.
It is placed automatically in your Inventory after level 6 once the goal "Neutrality Challenge" is complete.   This Building cannot be sold.
Non Active World Embassy: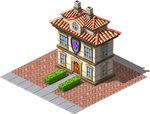 An Active Neutral World Embassy:

Note: If you have neutrality and you invade a neighbor, the World Embassy will ask you to disactivate it, if you accept, you can't activate it until after 6 hours.
Note: Neutrality protect you from Neighbors invasions.

Neutrality
Start with 18 hours.
Hire up to 6 Neighbors or use Steele for 3 Empire Points each.
Each Friend adds 18 hours.
A total of 126 hours from any invasion.
If a neighbours "shift" is complete they can be invited to work there again it is possible to keep your embassy going for over 2 weeks if they always join.
Ad blocker interference detected!
Wikia is a free-to-use site that makes money from advertising. We have a modified experience for viewers using ad blockers

Wikia is not accessible if you've made further modifications. Remove the custom ad blocker rule(s) and the page will load as expected.