Information for The Gold Honey Badger
The Gold Honey Badger is the Gold Version of The Honey Badger. It is possibly based on several World War II-era aircraft designs: the Arado Ar E.581.4 Single-Seat Jet Fighter, the Arado Ar E.555 Long-Range/High-Speed Bomber and the American Northrop N-1M.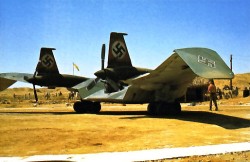 Ad blocker interference detected!
Wikia is a free-to-use site that makes money from advertising. We have a modified experience for viewers using ad blockers

Wikia is not accessible if you've made further modifications. Remove the custom ad blocker rule(s) and the page will load as expected.