The Butcher

—Image © Zynga
Information
Health
75
Tier Class
Tier 2 Unit
Class
Good against
Size
2x3
Defense Area
8x9
Build Time
0d 01:30
Source
Shipyard
Upgrade at
Navy Research Lab
General Costs
Coins
2,500 Coins
Oil Needed
250 Oil

Market Price
10,125 Coins
Sell for
125 Coins
Parts Needed for Upgrades
Upgrade Blueprints
4-7 Upgrade Blueprints
Welding Kits
4-7 Welding Kits
Propellers
4-7 Propellers
Poison Darts
2-5 Poison Darts
Upgraded Information
Health
150
Costs

1,875 Coins
00000000000000000187.5

187.5 Oil
2.25 Ore
Build Time
0d 01:07
Information for The Butcher
The Butcher is a battleship which can be obtained after beating Captain Krunsch in the battle "Knockout Punch." After completing the battle, The Butcher can be created at the Shipyard. It is based on the FSF-1 Sea Fighter equipped with two railguns. Note that The Butcher is one of the only battleships that doesn't require Empire Points to upgrade it's strength.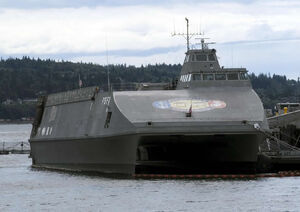 Ad blocker interference detected!
Wikia is a free-to-use site that makes money from advertising. We have a modified experience for viewers using ad blockers

Wikia is not accessible if you've made further modifications. Remove the custom ad blocker rule(s) and the page will load as expected.