Whats This?
-->

Removed Feature and/or Item from general gameplay

This article features an in game feature and/or an item that has been removed from general gameplay and its current state is permantly removed/unknown.

Main Article > Survival Mode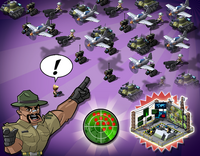 Overview
To activate this mode, players need to obtain level 25 and build a War Room. They then need to click on the War Room and choose to accept the Survival Mode Challenge.
Once Survival Mode has been activated, players need to choose the units (max of 5) they wish to use. There are up to 60 different waves/battles that will be fought with these units. Once the 60 waves/battles are completed the sequence will be repeated (starting with wave 1 units), though the wave number will continue to increase beyond 60. The battles are completed in sequential order with damage from each round carrying to the next. Once all units have been lost, Survival Mode is deactivated.
Reactivation
Upon failing to complete all 60 Survival Mode battles, players are given the option to pay

5 Empire Points to select 5 new units and continue from where they left off. If this option is not chosen, players can still attempt Survival Mode again; however, players will start over with wave #1. To start over, players should once again click on the War Room and choose "accept".
It is possible to pause the battle and re-enter it at a later time, without losing progress. The "retreat" option resets the survival mode and the player will have to start from wave 1.
Battles
Listed below are the 60 waves/battles faced in Survival Mode.
| | | | | | |
| --- | --- | --- | --- | --- | --- |
| Wave | Enemy Type | Enemy Units | Enemy Health | Class | Rewards |
32

x5
2x
1x
1x
1x
200

200

160

120




43

x5
2x
1x
1x
1x
250

225

200

150




44

x5
1x
1x
1x
1x
1x
250

200

200

150

150





48

x5
2x
1x
1x
1x
200

280

250

200




51

x5
1x
1x
2x
1x
550

450

150

175




56

x5
1x
2x
1x
1x
450

200

350

225




Ad blocker interference detected!
Wikia is a free-to-use site that makes money from advertising. We have a modified experience for viewers using ad blockers

Wikia is not accessible if you've made further modifications. Remove the custom ad blocker rule(s) and the page will load as expected.