Supercarrier

—Image © Zynga
Information
Level
Level 49
Health
200
Tier Class
Tier 5 Unit
Class
Good against
Size
2x3
Defense Area
8x9
Build Time
0d 12:00
Source
Shipyard III
Upgrade at
Navy Research Lab
General Costs
Coins
7,500 Coins
Oil Needed
375 Oil

Market Price
25,000 Coins
Sell for
375 Coins
Parts Needed for Upgrades
Upgrade Blueprints
6-9 Upgrade Blueprints
Mission Maps
6-9 Mission Maps
Blast Shields
6-9 Blast Shields
Arrestor Cables
4-7 Arrestor Cables
Upgraded Information
Health
240
Costs

5,625 Coins
00000000000000000281.25

281.25 Oil
18.75 Ore
Build Time
0d 09:00
Information for Supercarrier
The Supercarrier is based on the future of "supercarriers" around the world and does not represent any specific class though it is comparable to the HMS Queen Elizabeth (R08) with a ski-jump take-off design ramp. See below for more info.
Artist's Impression Image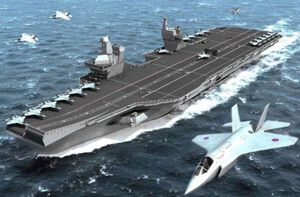 Zynga's idea of the Supercarrier is not based on a particular class of supercarrier; rather, the company is using the term to suggest any advanced aircraft carrier. Such carriers are known world wide as "supercarriers" regardless of their class or country of origin.
Ad blocker interference detected!
Wikia is a free-to-use site that makes money from advertising. We have a modified experience for viewers using ad blockers

Wikia is not accessible if you've made further modifications. Remove the custom ad blocker rule(s) and the page will load as expected.