October 3, 2011 - October 21, 2011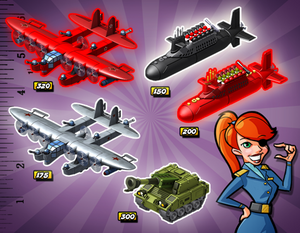 Ten-HUT!
It's true, soldiers...Size Matters!
This week's Limited Edition Content Pack brings you some of the BIGGEST military units in history!
Go into battle with the K-7 Bomber, NLOS Artillery Cannon, and more! We've also rolled out the last unit in the Size Matters content pack: 094 Jin Class Submarine!
Size Matters Event also comes with 6 limited time goals.
---
- Available from October 3rd
to October 21 2011 -

→
→
↓
←
←
Other Events
Edit
ww

Events 2011

wwwwwwwwwwwwwwwwwwww

June
July
August
September
October
November
December
Ad blocker interference detected!
Wikia is a free-to-use site that makes money from advertising. We have a modified experience for viewers using ad blockers

Wikia is not accessible if you've made further modifications. Remove the custom ad blocker rule(s) and the page will load as expected.