Whats This?
-->

Shipyard III

—Image © Zynga
Information
Type
Military
Size
3x3
Pop needed
3,600 Pop Needed
General Costs
Coins
25,700 Coins
Wood Needed
2,570 Wood

Construction
Whack
3 times
Information for Shipyard III
Shipyard III is a military building that lets you train most effective naval units. In the near future you will be able to upgrade this building and train more units!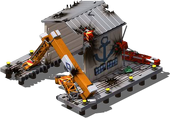 Damaged Shipyard III

NOTE: Ore costs are different for each player, select your corresponding ore on the tabs to view the prices that match your game.
Note: Unit lists are currently getting an overhaul and might contain inaccuracies. hidden
Name
Class

Great Against

Health

Costs
Build Time
(d hh:mm)
Level Req
Source1

Advanced Battleship

Battleship


550

33,000 Coins
00000000000000001650. 1,650 Oil
165 Aluminum 165 Copper 165 Gold 165 Iron 165 Uranium

1d 00:00
Level 63
Shipyard III

Advanced Gunboat

Gunboat


350

21,000 Coins
0000000000000001,050. 1,050 Oil
105 Aluminum 105 Copper 105 Gold 105 Iron 105 Uranium

0d 18:00
Level 57
Shipyard III

Altovar Battleship

Battleship


450

22,500 Coins
00000000000000001200. 1,200 Oil
96 Aluminum 96 Copper 96 Gold 96 Iron 96 Uranium

0d 16:00
Level 50
Shipyard III

Ankit UUV Submarine

Gunboat


760

46,000 Coins
00000000000000002400. 2,400 Oil
235 Aluminum 235 Copper 235 Gold 235 Iron 235 Uranium

20 hrs
Level 50
Shipyard III

Atlas D-3 Carrier

Carrier


410

20,000 Coins
00000000000000000900. 900 Oil
82 Aluminum 82 Copper 82 Gold 82 Iron 82 Uranium

0d 17:00
Level 50
Shipyard III

Barracuda Battleship

Battleship


340

13,600 Coins
00000000000000000680. 680 Oil
68 Aluminum 68 Copper 68 Gold 68 Iron 68 Uranium

0d 11:00
Level 25
Shipyard III

Basilosaurus Carrier

Carrier


600

36,000 Coins
00000000000000001800. 1,800 Oil
180 Aluminum 180 Copper 180 Gold 180 Iron 180 Uranium

0d 18:00
Level 50
Shipyard III

Black Ops Zumwalt

Battleship


580

120,000 Coins
00000000000000006000. 6,000 Oil
600 Aluminum 600 Copper 600 Gold 600 Iron 600 Uranium

1d 00:00
Level 49
Shipyard III

Blazing Britben Battleship

Battleship


800
Shipyard III

Blazing Gharman Carrier

Carrier


710

76,500 Coins
00000000000000003800. 3,800 Oil
355 Aluminum 355 Copper 355 Gold 355 Iron 355 Uranium

0d 16:00
Level 50
Shipyard III
75px
Blazing INS Viraat X-10

Carrier


740
Shipyard III

Blazing Trabzon Battleship

Battleship


760

46,500 Coins
00000000000000002700. 2,700 Oil
265 Aluminum 265 Copper 265 Gold 265 Iron 265 Uranium

0d 22:00
Level 50
Shipyard III

CC Starcity Battleship

Battleship


980
Shipyard III

Cavour Carrier

Carrier


320

12,800 Coins
00000000000000000640. 640 Oil
64 Aluminum 64 Copper 64 Gold 64 Iron 64 Uranium

0d 14:00
Level 25
Shipyard III

Comet Carrier

Carrier


710

76,500 Coins
00000000000000003800. 3,800 Oil
355 Aluminum 355 Copper 355 Gold 355 Iron 355 Uranium

0d 16:00
Level 50
Shipyard III

Cronus Battleship

Battleship


310

12,400 Coins
00000000000000000620. 620 Oil
62 Aluminum 62 Copper 62 Gold 62 Iron 62 Uranium

0d 10:00
Level 25
Shipyard III

DV3 Battleship

Battleship


1170
Shipyard III

Dark Riptide344 Sub

Gunboat


1050
Shipyard III

Devilfish Gun Boat

Gunboat


510

30,600 Coins
00000000000000001530. 1,530 Oil
153 Aluminum 153 Copper 153 Gold 153 Iron 153 Uranium

0d 14:00
Level 25
Shipyard III

Elite Advanced Bismark

Battleship


640

91,000 Coins
00000000000000004100. 4,100 Oil
410 Aluminum 410 Copper 410 Gold 410 Iron 410 Uranium

0d 18:00
Level 50
Shipyard III

Elite Advanced Gunboat

Gunboat


400

24,000 Coins
00000000000000001200. 1,200 Oil
120 Aluminum 120 Copper 120 Gold 120 Iron 120 Uranium

0d 18:00
Level 31
Shipyard III

Elite Advanced HMS Hood

Battleship


570

83,000 Coins
00000000000000000350. 350 Oil
350 Aluminum 350 Copper 350 Gold 350 Iron 350 Uranium

0d 15:50
Level 50
Shipyard III

Elite Advanced USS Enterprise

Carrier


520

45,000 Coins
00000000000000002000. 2,000 Oil
200 Aluminum 200 Copper 200 Gold 200 Iron 200 Uranium

0d 14:00
Level 50
Shipyard III

Elite Barracuda Battleship

Battleship


400

24,000 Coins
00000000000000001200. 1,200 Oil
120 Aluminum 120 Copper 120 Gold 120 Iron 120 Uranium

0d 10:00
Level 50
Shipyard III

Elite BatRay Patrol Boat

Gunboat


500

30,000 Coins
00000000000000001500. 1,500 Oil
150 Aluminum 150 Copper 150 Gold 150 Iron 150 Uranium

0d 22:00
Level 50
Shipyard III

Elite Caio Duilio Battleship

Carrier


380

22,800 Coins
00000000000000001140. 1,140 Oil
114 Aluminum 114 Copper 114 Gold 114 Iron 114 Uranium

0d 11:00
Level 25
Shipyard III
75px
Elite Devilfish Patrol Boat

Gunboat


540

32,400 Coins
00000000000000001620. 1,620 Oil
162 Aluminum 162 Copper 162 Gold 162 Iron 162 Uranium

0d 12:00
Level 50
Shipyard III

Elite Gator Patrol Boat

Gunboat


545

32,700 Coins
00000000000000001635. 1,635 Oil
164 Aluminum 164 Copper 164 Gold 164 Iron 164 Uranium

0d 14:00
Level 50
Shipyard III

Elite HMS Dreadnought

Battleship


630

90,000 Coins
00000000000000004000. 4,000 Oil
400 Aluminum 400 Copper 400 Gold 400 Iron 400 Uranium

0d 17:00
Level 50
Shipyard III

Elite HMS Ocean

Carrier


510

42,000 Coins
00000000000000002200. 2,200 Oil
230 Aluminum 230 Copper 230 Gold 230 Iron 230 Uranium

0d 14:00
Level 50
Shipyard III

Elite I-400 Sub Carrier

Carrier


420

22,000 Coins
00000000000000001000. 1,000 Oil
90 Aluminum 90 Copper 90 Gold 90 Iron 90 Uranium

0d 17:00
Level 50
Shipyard III

Elite Leatherback Carrier

Carrier


530
Shipyard III

Elite Leviathan Carrier

Carrier


675

81,000 Coins
00000000000000004050. 4,050 Oil
405 Aluminum 405 Copper 405 Gold 405 Iron 405 Uranium

0d 20:00
Level 50
Shipyard III

Elite Moray Submarine

Gunboat


530
Shipyard III

Elite RCB-X Riverine Command Boat

Gunboat


520

31,200 Coins
00000000000000001560. 1,560 Oil
156 Aluminum 156 Copper 156 Gold 156 Iron 156 Uranium

0d 24:00
Level 50
Shipyard III

Elite Railgun Battleship

Battleship


300

12,000 Coins
00000000000000000600. 600 Oil
60 Aluminum 60 Copper 60 Gold 60 Iron 60 Uranium

0d 16:00
Level 27
Shipyard III

Elite Sea Hive Carrier

Carrier


645

38,700 Coins
00000000000000001935. 1,935 Oil
194 Aluminum 194 Copper 194 Gold 194 Iron 194 Uranium

0d 10:00
Level 60
Shipyard III

Elite Sea Horse Carrier

Carrier


645

38,700 Coins
00000000000000001935. 1,935 Oil
194 Aluminum 194 Copper 194 Gold 194 Iron 194 Uranium

0d 15:00
Level 50
Shipyard III

Elite TF2000

Gunboat


480

28,800 Coins
00000000000000001440. 1,440 Oil
144 Aluminum 144 Copper 144 Gold 144 Iron 144 Uranium

0d 21:00
Level 50
Shipyard III

Elite Twin Orca Battleship

Battleship


670

40,200 Coins
00000000000000002010. 2,010 Oil
201 Aluminum 201 Copper 201 Gold 201 Iron 201 Uranium

0d 18:00
Level 50
Shipyard III

Elite Viperfish Submarine

Gunboat


280

11,200 Coins
00000000000000000560. 560 Oil
56 Aluminum 56 Copper 56 Gold 56 Iron 56 Uranium

0d 08:00
Level 25
Shipyard III

Elite Yamato II

Battleship


600

88,000 Coins
00000000000000003800. 3,800 Oil
380 Aluminum 380 Copper 380 Gold 380 Iron 380 Uranium

0d 16:00
Level 50
Shipyard III

Franklin B-2 Battleship

Battleship


280

7,500 Coins
00000000000000000450. 450 Oil
40 Aluminum 40 Copper 40 Gold 40 Iron 40 Uranium

0d 04:00
Level 15
Shipyard III

Gator Patrol Boat

Gunboat


700

84,000 Coins
00000000000000004200. 4,200 Oil
420 Uranium 420 Aluminum 420 Copper 420 Gold 420 Iron

0d 24:00
Level 49
Shipyard III

Gharman Carrier

Carrier


510

17,500 Coins
00000000000000000800. 800 Oil
76 Aluminum 76 Copper 76 Gold 76 Iron 76 Uranium

0d 16:00
Level 25
Shipyard III

Goalkeeper Submarine

Gunboat


580

34,800 Coins
00000000000000001740. 1,740 Oil
174 Aluminum 174 Copper 174 Gold 174 Iron 174 Uranium

0d 16:00
Level 50
Shipyard III

HL Hunley Submarine

Gunboat


400

22,000 Coins
00000000000000000650. 650 Oil
60 Aluminum 60 Copper 60 Gold 60 Iron 60 Uranium

0d 12:00
Level 25
Shipyard III

HMS Dreadnought

Battleship


560

80,000 Coins
00000000000000003500. 3,500 Oil
350 Aluminum 350 Copper 350 Gold 350 Iron 350 Uranium

0d 15:00
Level 50
Shipyard III

HMS Ocean

Carrier


460

19,000 Coins
00000000000000000900. 900 Oil
70 Aluminum 70 Copper 70 Gold 70 Iron 70 Uranium

0d 18:00
Level 50
Shipyard III

HMS Ocean Black Ops

Carrier


550

33,000 Coins
00000000000000001650. 1,650 Oil
165 Aluminum 165 Copper 165 Gold 165 Iron 165 Uranium

0d 18:00
Level 55
Shipyard III

Hammerhead Battleship

Battleship


620

37,200 Coins
00000000000000001860. 1,860 Oil
186 Aluminum 186 Copper 186 Gold 186 Iron 186 Uranium

0d 12:00
Level 50
Shipyard III

Hunter-Killer Gunboat

Gunboat


150

6,000 Coins
00000000000000000300. 300 Oil
20 Uranium 20 Aluminum 20 Copper 20 Gold 20 Iron

0d 08:00
Shipyard III

I-400 Sub Carrier

Carrier


360

18,000 Coins
00000000000000000800. 800 Oil
60 Aluminum 60 Copper 60 Gold 60 Iron 60 Uranium

0d 15:00
Level 50
Shipyard III
}|
Inuos Battleship

Battleship


1170
Shipyard III

Jefferson T-300 Battleship

Battleship


700

42,000 Coins
00000000000000002100. 2,100 Oil
210 Aluminum 210 Copper 210 Gold 210 Iron 210 Uranium

0d 22:00
Level 50
Shipyard III

Karsack Submarine

Gunboat


840

50,400 Coins
00000000000000002520. 2,520 Oil
252 Aluminum 252 Copper 252 Gold 252 Iron 252 Uranium

0d 24:00
Level 50
Shipyard III

Leviathan Carrier

Carrier


615

36,900 Coins
00000000000000001845. 1,845 Oil
184 Aluminum 184 Copper 184 Gold 184 Iron 184 Uranium

0d 22:00
Level 50
Shipyard III

Lightning Bartex Submarine

Gunboat


900
Shipyard III

Lightning Bretsol Carrier

Carrier


830
Shipyard III

Lightning Sargasso Carrier

Carrier


860
Shipyard III

Lightning Troy Battleship

Battleship


860
Shipyard III

Lightning X-20 VTOL Battleship

Battleship


890
Shipyard III

Madison T-3 Carrier

Carrier


650

39,000 Coins
0000000000000001,950. 1,950 Oil
195 Aluminum 195 Copper 195 Gold 195 Iron 195 Uranium

0d 20:00
Level 50
Shipyard III

Merrimack

Battleship


610

36,600 Coins
00000000000000001830. 1,830 Oil
183 Aluminum 183 Copper 183 Gold 183 Iron 183 Uranium

0d 08:00
Level 50
Shipyard III

NU-45 Sub

Gunboat


870
Shipyard III

Quarterback Patrol Boat

Gunboat


430

25,800 Coins
00000000000000001290. 1,290 Oil
129 Aluminum 129 Copper 129 Gold 129 Iron 129 Uranium

0d 11:00
Level 50
Shipyard III

RCB-X Riverine Command Boat

Gunboat


410

23,000 Coins
00000000000000000700. 700 Oil
40 Aluminum 40 Copper 40 Gold 40 Iron 40 Uranium

0d 20:00
Level 50
Shipyard III

Railgun Battleship

Battleship


250

10,000 Coins
00000000000000000500. 500 Oil
30 Aluminum 30 Copper 30 Gold 30 Iron 30 Uranium

0d 16:00
Level 50
Shipyard III

Rubis X-38 Submarine

Gunboat


780

47,500 Coins
00000000000000002500. 2,500 Oil
245 Aluminum 245 Copper 245 Gold 245 Iron 245 Uranium

20 hrs
Level 50
Shipyard III

S9 Gunboat

Gunboat


1020
Shipyard III
75px
Sea Dragon II

Gunboat


810
Shipyard III

Sea Hive Carrier

Carrier


750

90,000 Coins
00000000000000004500. 4,500 Oil
450 Aluminum 450 Copper 450 Gold 450 Iron 450 Uranium

0d 24:00
Level 64
Shipyard III

Sea Horse Carrier

Carrier


620

37,200 Coins
00000000000000001860. 1,860 Oil
186 Aluminum 186 Copper 186 Gold 186 Iron 186 Uranium

0d 14:00
Level 50
Shipyard III

Sea Master Submarine

Gunboat


930
Shipyard III

Super Comet Carrier

Carrier


750

85,800 Coins
00000000000000004200. 4,200 Oil
370 Aluminum 370 Copper 370 Gold 370 Iron 370 Uranium

1d 00:00
Level 50
Shipyard III

Super Cronus Battleship

Battleship


610

36,600 Coins
00000000000000001830. 1,830 Oil
183 Aluminum 183 Copper 183 Gold 183 Iron 183 Uranium

0d 20:00
Level 50
Shipyard III

Super Dimensional Carrier

Carrier


450

27,000 Coins
0000000000000001,350. 1,350 Oil
135 Aluminum 135 Copper 135 Gold 135 Iron 135 Uranium

0d 20:00
Level 60
Shipyard III

Super Franklin B2 Battleship

Battleship


760

81,000 Coins
00000000000000003900. 3,900 Oil
400 Aluminum 400 Copper 400 Gold 400 Iron 400 Uranium

18:00 hrs
Level 50
Shipyard III

Super Madison T3 Carrier

Carrier


680

39,600 Coins
00000000000000002100. 2,100 Oil
210 Aluminum 210 Copper 210 Gold 210 Iron 210 Uranium

0d 14:00
Level 50
Shipyard III