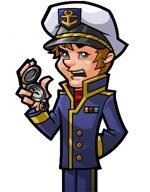 "The last set of blueprints has been located on a nearby island. If you can get me the proper map, my crew can get us there."
Goals
Rewards
Acquire 10 maps to guide Salty to the island.
Complete All 3 Goals
Build a flotilla of 10 battleships to accompany Salty
Complete All 3 Goals
Defeat The Eel's forces that are blocking your way
1x Energy
1x Evasion I
2x Mastery Tokens
Goal Line
---
Ad blocker interference detected!
Wikia is a free-to-use site that makes money from advertising. We have a modified experience for viewers using ad blockers

Wikia is not accessible if you've made further modifications. Remove the custom ad blocker rule(s) and the page will load as expected.