August 22, 2011 - September 5, 2011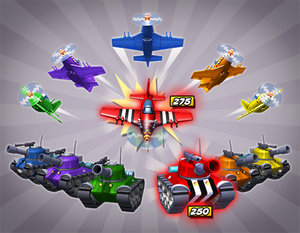 Ten-HUT! I'm sure all have noticed our new Prism Power Pack! This includes a whole new batch of multi-colored Mustang Fighters and Sherman Tanks for you to wreak brightly-colored havoc on your enemies! Don't forget that the red ones are exceptionally strong—the red ones are always better, right?
Prism Power also comes with 8 limited time goals.
---
- Available from August 22nd

to September 5th 2011 -
Other Events
Edit
Ad blocker interference detected!
Wikia is a free-to-use site that makes money from advertising. We have a modified experience for viewers using ad blockers

Wikia is not accessible if you've made further modifications. Remove the custom ad blocker rule(s) and the page will load as expected.