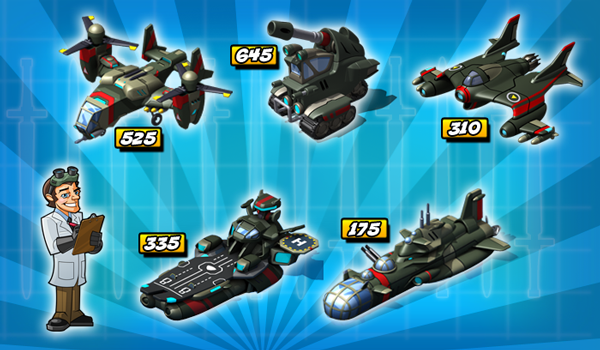 Information
From
To
March 26, 2012 -
April 12, 2012
"
Ordinance Outrage is back! This time , we're introducing a brand new Limited Edition content pack!

Here's what you'll find:

Wombat Tank
Leatherback Carrier
Shrike Fighter
Gyrfalcon 01 VTOL
Snakehead Submarine

"
hidden
Name
Class

Great Against

Health

Costs
Level Req
Source1
Unlock For

Gyrfalcon 01 VTOL

Bomber


525

31,500 Coins
00000000000000001575. 1,575 Oil
158 Aluminum 158 Copper 158 Gold 158 Iron 158 Uranium

Level 50
Hangar III
112 Empire Points

Leatherback Carrier

Carrier


335

13,400 Coins
00000000000000000670. 670 Oil
67 Aluminum 67 Copper 67 Gold 67 Iron 67 Uranium

Level 25
Shipyard II
76 Empire Points

Shrike Fighter

Fighter


310

12,400 Coins
00000000000000000620. 620 Oil
62 Aluminum 62 Copper 62 Gold 62 Iron 62 Uranium

Level 25
Hangar II
76 Empire Points

Snakehead Submarine

Gunboat


175

5,300 Coins
00000000000000000265. 265 Oil
27 Aluminum 27 Copper 27 Gold 27 Iron 27 Uranium

Level 15
Shipyard II
36 Empire Points

Wombat Tank

Tank


645

38,700 Coins
00000000000000001935. 1,935 Oil
194 Aluminum 194 Copper 194 Gold 194 Iron 194 Uranium

Level 50
Barracks III
120 Empire Points

DPL 06:49:29 cache updated, time elapsed = 0.1319100856781
Ordinance Outrage V also comes with 3 limited time goals.
---
- Available from
March 26th, 2012
to April 12th, 2012 -

→
→
Other Events
Edit
Ad blocker interference detected!
Wikia is a free-to-use site that makes money from advertising. We have a modified experience for viewers using ad blockers

Wikia is not accessible if you've made further modifications. Remove the custom ad blocker rule(s) and the page will load as expected.