Malady Burns

—Image © Zynga
Classified
Height
5"8"
Age
28
Gender
Female
Role
Nurse
Profile
Malady loves to "play doctor" with unsuspecting victims, dispensing generous doses of pain and suffering.
Intel
Inside Malady's medical bag was an assortment of very long needles and a prescription for the Raven's depression brought on by recent battle losses. The Dark Alliance is clearly on their heels.

Caution

Plays Doctor On TV
Campaign
Battle
Port Sylvan
Unlocks
The Reaper

Malady Burns is the eighth boss the player encounters. She is fought on Port Sylvan during 3 stages. After defeating her, the player will unlock a white battleship called The Reaper.
Etymology
Edit
The name could be translated as meaning "disease burns" since malady means "disease". The name Malody is similar to names like "Melody" or the phrase "Milady".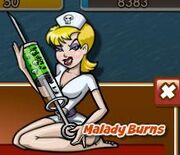 Ad blocker interference detected!
Wikia is a free-to-use site that makes money from advertising. We have a modified experience for viewers using ad blockers

Wikia is not accessible if you've made further modifications. Remove the custom ad blocker rule(s) and the page will load as expected.