Light Artillery Vehicle

—Image © Zynga
Information
Level
Level 15
Health
150
Tier Class
Tier 4 Unit
Class
Good against
Size
1x1
Defense Area
3x3
Build Time
0d 04:00
Source
Barracks
Upgrade at
Army Research Lab
General Costs
Coins
6,000 Coins
Oil Needed
150 Oil

Market Price
15,000 Coins
Sell for
300 Coins
Parts Needed for Upgrades
Upgrade Blueprints
4-11 Upgrade Blueprints
Army Red Tapees
4-11 Army Red Tapees
Welding Kits
4-11 Welding Kits
Jeep Grills
4-11 Jeep Grills
Upgraded Information
Health
188
Costs

4,500 Coins
00000000000000000112.5

112.5 Oil
11.25 Ore
Main Article > Mighty Minis
Information for Light Artillery Vehicle
This unit is based on the Willys MB, also known as Ford GPW. Widely considered as the iconic World War II Jeep, it was the source of inspiration for the designs of many similar light utility vehicles. It has a mounted recoil-less rifle on it. From 23 November 2011 you can get 1 of these by adding 5 neighbors.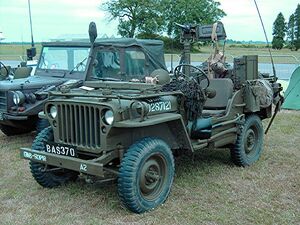 Ad blocker interference detected!
Wikia is a free-to-use site that makes money from advertising. We have a modified experience for viewers using ad blockers

Wikia is not accessible if you've made further modifications. Remove the custom ad blocker rule(s) and the page will load as expected.