Kai Tana

—Image © Zynga
Classified
Height
5'9"
Age
29
Gender
Female
Role
Spy
Profile
A cunning Temptress with a tongue as sharp as her blade, Kai Tana will catch you and lick you to death!
Intel
Hidden in Kai Tana's closet was a list of all the metals The Dark Alliance is stockpiling; the only metal they are missing is our Ore. We think they're up to something.

Warning

Steep Curves Ahead!
Campaign
Battle
Mercadia
Unlocks
The Ripper

Kai Tana is the second boss the player must fight during Campaign Mode. She tries to take over Mercadia and the player must fight her there during 3 stages.
After she is defeated, she becomes an ally and the player will unlock a new airship called The Ripper.
Her name is clearly based on the word "katana", which is the Japanese word for sword, which she carries together with her.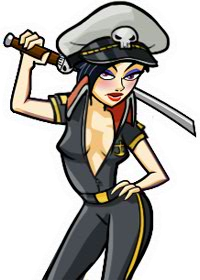 Kai Tana hands out a limited time mission called Something Is Afloat taking to the Allies side.
---
- Available from October 21th
to November 4 2011 -

→
→
↓
←
←
Ad blocker interference detected!
Wikia is a free-to-use site that makes money from advertising. We have a modified experience for viewers using ad blockers

Wikia is not accessible if you've made further modifications. Remove the custom ad blocker rule(s) and the page will load as expected.