Hospital Ship

—Image © Zynga
Information
Level
Level 20
Health
150
Tier Class
Tier 2 Unit
Class
Ability
Combat Repairs
Size
2x3
Defense Area
8x9
Build Time
0d 02:00
Source
Experimental Shipyard
Upgrade at
Navy Research Lab
General Costs
Coins
10,000 Coins
Oil Needed
250 Oil
Market Price
18,750 Coins
Sell for
500 Coins
Upgraded Information
Costs

7,500 Coins
00000000000000000187.5

187.5 Oil
Information for Hospital Ship
Hospital Ship is a Special Ability Sea Unit with 150 Health built in Experimental Shipyard, based on USNS Comfort. It uses a few miniguns as weapon. It makes it's first appearance on Steele's island quoting:

"A Huge Discovery Intel: Dr.Seabolt has discovered an incredible new power source, which will allow us to build amazing new Experimental Units! Our first, the HOSPITAL SHIP, will be available soon! This will change everything."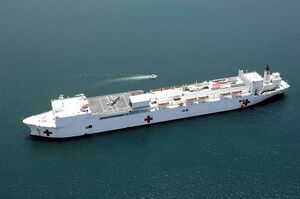 Updated.
Ad blocker interference detected!
Wikia is a free-to-use site that makes money from advertising. We have a modified experience for viewers using ad blockers

Wikia is not accessible if you've made further modifications. Remove the custom ad blocker rule(s) and the page will load as expected.