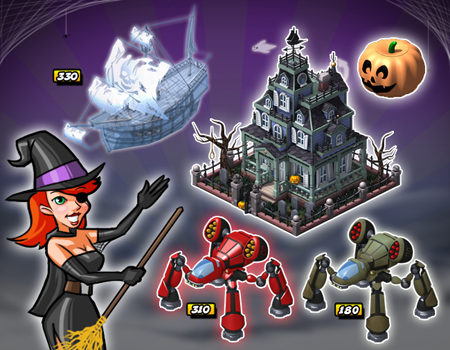 Information
From
To
October 17, 2011 -
November 4 2011
"
We've rolled out a bunch of cool new stuff with this release, including the Ghost Ship, as well as three different sizes of Haunted House! This is an actual house, not a decoration—It provides rent and population as well as good looks!

Of course, There are more units coming out tomorrow...

"
Decorations
Edit
Halloween Week (2011) Event also comes with 6 limited time goals.
---
- Available from October 17
to November 4 2011 -

→
→
↓
←
←
Parts that come with an event are required to complete the limited time goals the event offers.
Other Events
Edit
Ad blocker interference detected!
Wikia is a free-to-use site that makes money from advertising. We have a modified experience for viewers using ad blockers

Wikia is not accessible if you've made further modifications. Remove the custom ad blocker rule(s) and the page will load as expected.