Flying Fortress Bomber

—Image © Zynga
Information
Level
Level 22
Health
100
Tier Class
Tier 2 Unit
Class
Good against
Size
2x2
Defense Area
4x4
Build Time
0d 02:00
Source
Hangar
Upgrade at
Air Force Research Lab
General Costs
Coins
1,800 Coins
Oil Needed
90 Oil

Market Price
6,000 Coins
Sell for
90 Coins
Parts Needed for Upgrades
Upgrade Blueprints
5-8 Upgrade Blueprints
Altitude Indicators
5-8 Altitude Indicators
Parachutes
5-8 Parachutes
Smart Bombs
3-6 Smart Bombs
Upgraded Information
Health
150
Costs

1,350 Coins
00000000000000000067.5

67.5 Oil
4.5 Ore
Build Time
0d 01:30
Information for Flying Fortress Bomber
This unit is based on the B-17 Flying Fortress
The Flying Fortress Bomber was used by The Dark Alliance to bomb the player's island as seen as the intro video, although its a different design.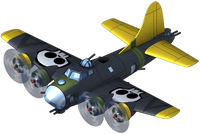 Ad blocker interference detected!
Wikia is a free-to-use site that makes money from advertising. We have a modified experience for viewers using ad blockers

Wikia is not accessible if you've made further modifications. Remove the custom ad blocker rule(s) and the page will load as expected.