Elite Heavy Carrier

—Image © Zynga
Information
Dominance
Level 15
Health
200
Tier Class
Tier 4 Unit
Class
Good against
Size
2x3
Defense Area
8x9
Build Time
0d 06:00
Source
Shipyard II
General Costs
Coins
6,000 Coins
Oil Needed
300 Oil

Market Price
22,500 Coins
Parts Needed for Upgrades
Upgrade Blueprints
6-9 Upgrade Blueprints
Advanced Hull Platinges
6-9 Advanced Hull Platinges
Blast Shields
6-9 Blast Shields
Sailor Hats
5-9 Sailor Hats

Main Article > World Domination
Information for Elite Heavy Carrier
This is the Elite Version of the Heavy Carrier. It is unlocked after you reach Dominance Rank 15 in World Domination.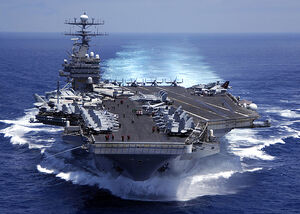 Ad blocker interference detected!
Wikia is a free-to-use site that makes money from advertising. We have a modified experience for viewers using ad blockers

Wikia is not accessible if you've made further modifications. Remove the custom ad blocker rule(s) and the page will load as expected.