October 31st, 2011 - November 16, 2011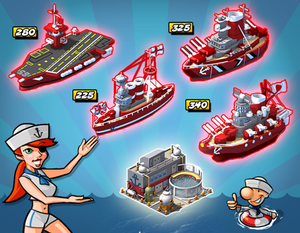 Ten-HUT!
Rather than candy, we have another little gift for you: it's the Elite Fleet Week content pack!
We're releasing upgraded versions of the greatest military vessels in history—the Yamato, the H. M. S. Hood, the U. S. S. Enterprise, and the Bismarck! And this time, all of these new ships can be Upgraded in the Navy Research Lab!
Elite Fleet Week Event also comes with 3 limited time goals.
---
- Available from October 31
to November 16 2011 -

→
→
Parts that come with an event are required to complete the limited time goals the event offers.
Other Events
Edit
Ad blocker interference detected!
Wikia is a free-to-use site that makes money from advertising. We have a modified experience for viewers using ad blockers

Wikia is not accessible if you've made further modifications. Remove the custom ad blocker rule(s) and the page will load as expected.