November 22, 2011 - December 8, 2011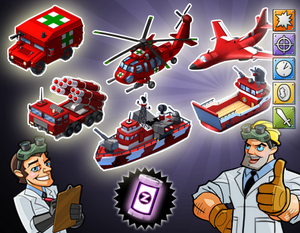 Ten-HUT!
Oh man, have we got some cool stuff for you today!!!
First—for the first time, we're letting you build Elite Experimental Units!
These are new versions of familiar units, including the E-War Cruiser, Medivac Helicopter, and more—but re-tuned for higher level players! These units can hold their own against anything you can throw at them. Give them a try and see!
Note: You can also gain the Elite Medivac Chopper for free by purchasing all other 5 Elite experimental units either by contract or fixed price (Min Level 35 required for offer).
Elite Experimentals also comes with 3 Limited Time Goals.
---
- Available from November 22nd
to December 8th 2011 -

→
→
Other Events
Edit
ww

Events 2011

wwwwwwwwwwwwwwwwwwww

June
July
August
September
October
November
December
Ad blocker interference detected!
Wikia is a free-to-use site that makes money from advertising. We have a modified experience for viewers using ad blockers

Wikia is not accessible if you've made further modifications. Remove the custom ad blocker rule(s) and the page will load as expected.