Elite Barrage Truck

—Image © Zynga
Information
Level
Level 25
Unlock For
36 Empire Points
Health
250
Tier Class
Tier 5 Unit
Class
Ability
Missile Barrage
Size
1x1
Defense Area
3x3
Build Time
0d 03:00
Source
Experimental Barracks
General Costs
Coins
12,000 Coins
Oil Needed
350 Oil

Market Price
26,250 Coins
Main Article > Elite Experimentals
Information for Elite Barrage Truck
Its original version is named Barrage Truck. Compared to the Barrage Truck's Missile Barrage attack power of 50, the Elite Barrage Truck deals 75 damage to all targets.

The Elite Barrage Truck is a Ground Unit Based on the PHL-03, a Chinese copy of a BM-30 Smerch (Tornado).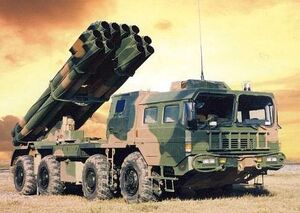 Ad blocker interference detected!
Wikia is a free-to-use site that makes money from advertising. We have a modified experience for viewers using ad blockers

Wikia is not accessible if you've made further modifications. Remove the custom ad blocker rule(s) and the page will load as expected.