Main Article > Charity Events
This is a building that can be purchased during Charity Events and staff that will allow you to protect certain parts of you island from invasion—giving you a last ditch defense when the enemy attacks, as well as allowing you to separate out parts of your island so that some areas are open to be attacked, but other areas remain safe.

Protected areas may still be invaded upon activation of tower. However, aggressor will be expelled regardless of how powerful their units are.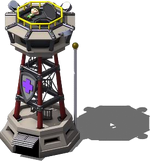 To activate the tower 1-4 Energy Drinks are needed. Each energy drink provides 8 hours of immunity for the protected area. As a result, the protection can last either 8 hours, 16 hours, 24 hours, or 32 hours depending on the number of energy drinks used.
Ad blocker interference detected!
Wikia is a free-to-use site that makes money from advertising. We have a modified experience for viewers using ad blockers

Wikia is not accessible if you've made further modifications. Remove the custom ad blocker rule(s) and the page will load as expected.