Moll DeKae (Zombie Soldier)

—Image © Zynga
Classified
Height
5'8"
Age
26
Gender
Male
Role
Zombie Corporal
Profile
In charge of the hunt for A'amakualenalena, the Corporal disappeared and has been MIA for months. He just resurfaced with notable changes to his self and er, personality.
Intel
**** off a Voodoo Doctor and he might turn you into a zombie. Moll DeKae fell afoul of one during his mission. Caution recommended.

Be Aware

Likes to chuck body parts.

Caution

Might contain fleas.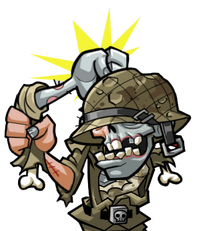 Ad blocker interference detected!
Wikia is a free-to-use site that makes money from advertising. We have a modified experience for viewers using ad blockers

Wikia is not accessible if you've made further modifications. Remove the custom ad blocker rule(s) and the page will load as expected.