Information for A-10 Warthog
The A-10 Warthog is an Air Unit based on the A-10 Thunderbolt II, which is known by it's nickname "Warthog". It first appeared randomly while Invading a friend (PvP Combat). The A-10 Warthog can only be obtained by purchasing Empire Points for $5 or $14 during July-August 2011. It is similar to The Ripper, with minor differences and the paintwork changed. It is also known in the air force as the "tank killer" since this aircraft is built for close air support. It is probably as rare as the Dragon Boat since it is the first ever Unit that could be obtained from LE Packs, and unlike the other units, it can't be purchased from other players' Market.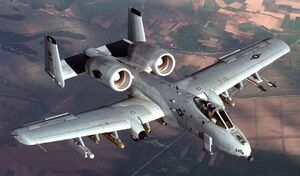 Ad blocker interference detected!
Wikia is a free-to-use site that makes money from advertising. We have a modified experience for viewers using ad blockers

Wikia is not accessible if you've made further modifications. Remove the custom ad blocker rule(s) and the page will load as expected.